Home
› Being at NLU - D › Student Affairs › Achievement › Sports Achievements
Student Achievements
Sports Achievements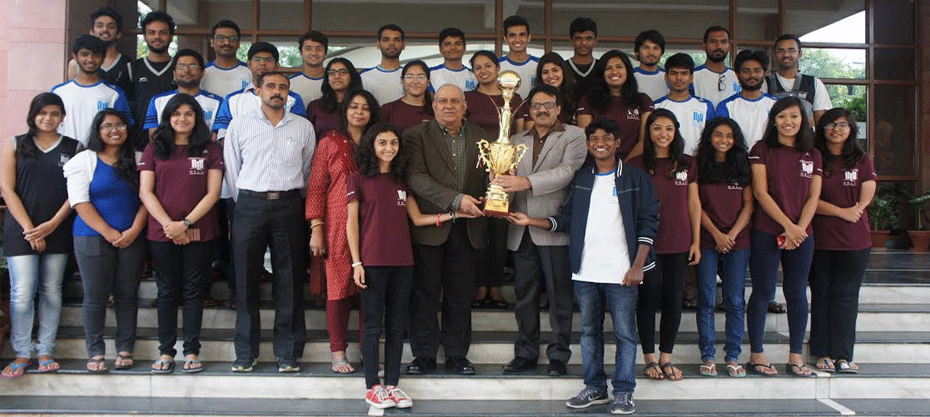 "With the aim of reclaiming the Overall Best College trophy, a contingent of around 50 students -- selected through gruelling tryouts organised by the Sports Committee -- participated in NLIU Bhopal's Virudhaka 2015. The contingent was a good example of the inclusive spirit of campus sports culture as it saw an unprecedented increase in players selected from the junior batches. With a medal tally of 9 golds and 6 silvers, the NLUD contingent dominated in almost every event.

The women's teams did the University proud by winning gold in volleyball and table tennis, and silver in football, basketball and tennis. The badminton mixed doubles team won a silver medal as well.

Apart from the team achievements, the University also excelled in individual sports with gold medals being awarded to Mona Nooreyezdan (IV year) in 100m, 200m and Long Jump; Tia Majumdar (III year) in Shot Put and Discuss Throw; Tarn Sundaram (II year) in Triple Jump; and Jitendra Dukiya (V year) in Hurdles. Silver medals were awarded to Archana Negi (IV year) for 400m, and Jitendra Dukiya for High Jump. Bronze medals were awarded to Shweta Kabra (IV year) for 400m and Jitendra Dukiya for Triple Jump, Long Jump and Shotput.

At the beginning of the year, the University had participated in Jindla Global Law School's Magnus 2015, and won medals in men's volleyball and High Jump at NUJS' Invicta 2015. The sports contingent wrapped up a successful year by not only fulfilling their aim of winning the Overall Best College Trophy but also claiming the Most Valuable Player Award which was given to Mona Nooreyezdan."