Events/News
NLU's Vice-Chancellor Invited to Participate in the Guadalajara International Book Fair & Vice-Chancellor's Forum 2019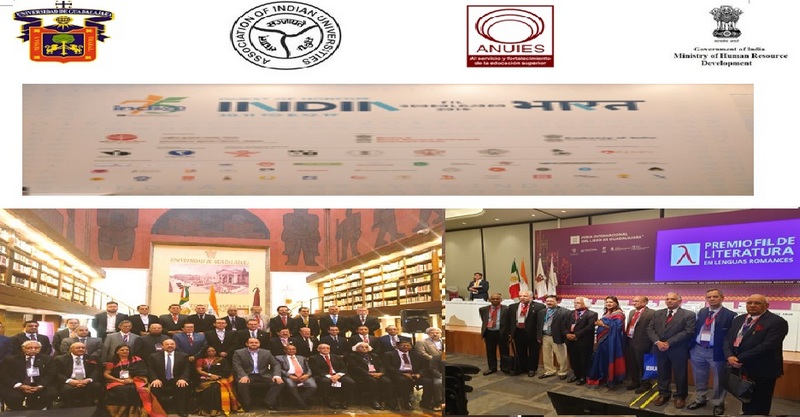 12/01/2019
NLU Delhi's Vice-Chancellor Invited to Participate in the
Guadalajara International Book Fair and Vice Chancellors' Forum 2019
National Law University Delhi was one of the 990 universities invited to participate in the Guadalajara International Book Fair (FIL) by the Association of Indian Universities (AIU) India. This annual event was organised by the National Association of Universities and Higher Education Institutions (ANUIES) of Mexico from November 30th to December 8th, 2019, in Universidade Gualdajara, Mexico. It was a novel opportunity for Indian Universities to discover and seek similarities between Indian and Mexican Higher Education Systems to build future collaborations.
This year, in continuation of the book fair, ANUIES also organised the Vice-Chancellors' Forum in Mexico. Herein, Vice-Chancellors of both India and Mexico shared their ideas, experiences, and solutions to problems of mutual concerns. The India-Mexico Vice Chancellors' Forum was from November 30th- December 1st, 2019. It was inaugurated on November 30th, 2019 at the Library of University of Gualdajara, Mexico as a part of the Guadalajara International Book Fair (GIBF). Prof. (Dr.) Ranbir Singh, Vice-Chancellor, NLU Delhi was invited to take part in the Guadalajara Book Fair and participated in the VCs' Forum.
The Guadalajara International Book Fair is one of the most prominent publishing gatherings in the Spanish speaking part of the world, 2nd largest Book Fair in the world after Frankfurt. This fair attracts over a million gathering from across the world participating in this mix of literary and cultural fest. This makes FIL extraordinarily above all other book fairs, as it not being just exhibition of books, but a melange of world engagement of professionals and public alike through various events.
The 2019 edition of Book Fair hosted India as the guest of honour country and featured an opportunity for both the countries to mutually celebrate their diversity yet similarity. The GIBF provides an annual platform for cultural exchange, academic discussion and collaborations together.
Grand opening ceremony of International Book Fair 2019 at Mexico with India as the Guest of Honour country was done in the presence of Hon'ble Minister of State, Ministry of Human Resources Development, Shri Sanjay Dhotre. The event hosted 2,280 publishing houses, over 800 authors from 37 countries and over 800,000 professionals and visitors from across the world.