Events/News
Celebration of the 70th Anniversary of Indian Constitution (November 26, 2019)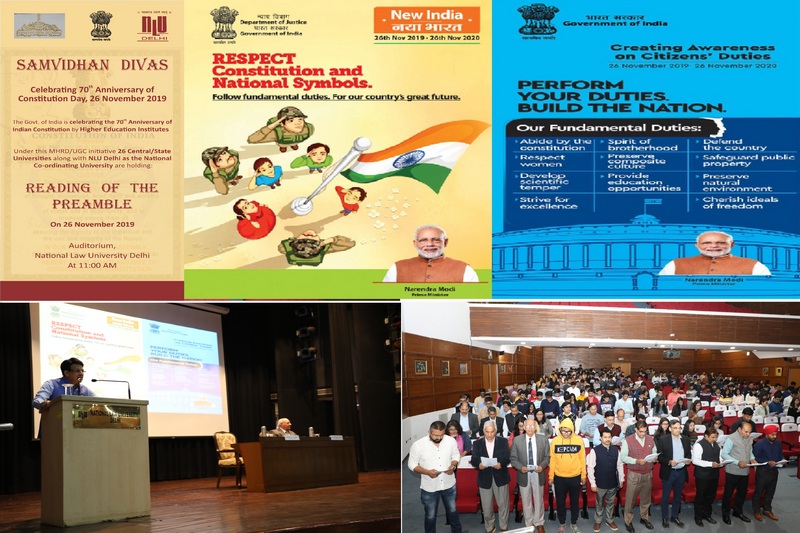 11/26/2019
Celebration of the 70th Anniversary of Indian Constitution
National Law University Delhi
26th November 2019
National Law University Delhi organised the Celebration of the 70th Anniversary of Indian Constitution, today in the Auditorium, at 10.40 AM.
A grand event was organised wherein Reading of the Preamble was done in both Hindi and English.
A large number of Students, Faculty Members, Research Staff Members and Administrative Staff members participated in the event.
Remarkably, NLU Delhi has been identified as the National Co-ordinating University to coordinate the activities and competitions with the 26 Central/State Co-ordinating Universities all throughout the year.
As part of audience address before the programme, Prof. G. S. Bajpai, Registrar, NLU Delhi spoke on:
The year-long calendar of various competitions and activities to be organised, starting from 26th November 2019 to 26th November 2020.
All students, faculty, and staff were encouraged to tweet about the event using the hashtag #ConstitutionDay and also tag @fundamentalduty
All students were encouraged to register for the Essay Competition and visit the official UGC Portal called Kartavya at www.kartavya.ugc.ac.in