Events/News
NLU Delhi signs MoU with National E-Governance Division, Ministry of Electronics and Information Technology, on 26 September 2019.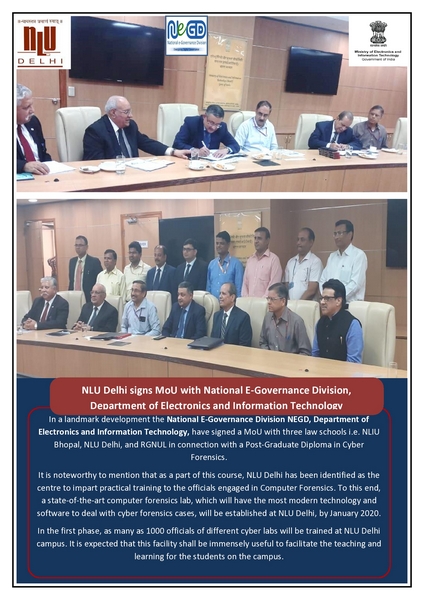 10/03/2019
In a landmark development the National E-Governance Division NEGD, Department of Electronics and Information Technology have signed a MoU with three law schools i.e. NLIU Bhopal, NLU Delhi, and RGNUL in connection with a Post-Graduate Diploma in Cyber Forensics.
It is noteworthy to mention that as a part of this a course, NLU Delhi has been identified as the centre to impart practical training to the officials engaged in computer forensics. To this end, a state-of-the-art computer forensics lab, which will have the most modern technology and software to deal with cyber forensics cases, will be established at NLU Delhi, by January 2020.
In the first phase, as many as 1000 officials of different cyber labs will be trained at NLU Delhi campus. It is expected that this facility shall be immensely useful to facilitate the teaching and learning for the students on the campus.