Events/News
7th Annual Convocation (August 17, 2019)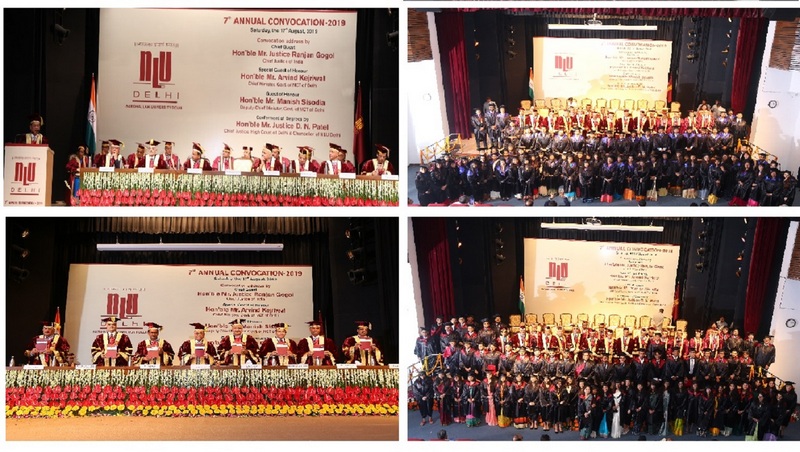 08/17/2019
7th ANNUAL CONVOCATION
NATIONAL LAW UNIVERSITY DELHI
The 7th Annual Convocation of National Law University Delhi was held on 17 August 2019, in the Auditorium of the University. The convocation address was delivered by the Chief Guest Honourable Mr. Justice Ranjan Gogoi, Chief Justice of India. Honourable Mr. Arvind Kejriwal, Chief Minister, Govt. of NCT of Delhi, was the Special Guest of Honour, along with Honourable Mr. Manish Sisodia, who was the Guest of Honour. Honourable Mr. Justice D. N. Patel, Chief Justice, High Court of Delhi and Chancellor NLU Delhi conferred the degrees upon the successful students of BA.LL.B. (Hons.), LL.M., and Ph.D.
Mr. Vijay Kumar Dev, Chief Secretary, Govt. of NCT of Delhi, and Justice Rajiv Endlaw were also part of the dignitaries to award gold medals and cash prizes to students of B.A.LL.B. (Hons) and LL.M. programme. Notable awardees were Ms. Vrinda Vinayak who received 4 gold medals and one cash prize; Ms. Tishta Tandon was awarded six gold Medals and one cash prize; Ms. Namita Elizabeth Varghese received 3 gold medals and one cash prize, Ms. Ria Himmatramka received 2 gold medals and two cash prizes, and Ms. Gowri Reghunath received four gold medals. LL.M. students Ms. Surbhi Karwa, Dhruv Chandora, Meghadarshini M. S., Ankit Kaushik, and Aditya Rawat were also awarded gold medals. Also, 4 gold medals were awarded by the Vice-Chancellor to LL.B. and LL.M. students. Mr. Vijay Kumar Dev, Chief Secretary, Govt. of NCT of Delhi was awarded a gold medal for LL.M. Professional programme. The graduating students were 78 LL.M. students and 83 B.A.LL.B. (Hons.) students, and six Ph.D. candidates graduated.
In his welcome address, the Vice Chancellor of National Law University Delhi, Prof. (Dr.) Ranbir Singh said that this is the 11th anniversary of the establishment of the University, and highlighted the landmark achievements of the University for over the last decade and more. He mentioned that in this short span of time since its establishment in 2009, the University today is amongst the best law schools in the country, after achieving an NAAC score of 3.59 on a 4 point scale with an 'A' grade accreditation; has been conferred a Category I autonomy status by the MHRD; and is ranked no. 2 best law school in the country in the NIRF Rankings 2018 and 2019 for two consecutive years.
He said that NLU Delhi is known for its performance in academics research, and for providing best infrastructure and library facilities. With 16 research centres attracting funding from reputed foundations national and global, he said that NLU Delhi has made its mark on an International front through its research centres and projects. He stated that the cumulative funding of various research projects and trainings is approx. INR 35 Crores. NLU Delhi is renowned for its engagement with and contributions to various Governmental organisations for training programmes; which he stated was mentioned by the Finance Minister in the Lok Sabha.
It is a matter of pride that students choose NLU Delhi over other institutions, and NLU graduates excel in all fields, including Civil Services and Judicial examinations. They earn admissions by securing prestigious scholarships to Ivy League institutions, and secure 100% placement in top law firms.
He informed with pride that NLU Delhi would be organising the 17th Asian Law Institute (ASLI) Annual Conference from 3-4 June 2020, to be attended at NLU Delhi by 300 law professors across the globe. Also, NLU Delhi has been chosen by Association of Indian Universities (AIU) to host the Annual Vice-Chancellor's Conference in Feb. 2020, to be attended by 300 VCs from across the country. He mentioned the University's contributions in the successful implementation of the E-PG pathshala project thereby creating 400 e-lectures. 11 Massive Open Online Courses (MOOCs) programme were initiated with the Govt. of India, available for free online, which has already seen enrolment from over 10000 students. Mention worthy are contributions of LL.M. (Pro) Programme for working professionals and National Academy of Law Teachers for conducting training for over 1000 teachers so far. He said, "For us at NLU Delhi the best is yet to come."
Honourable Mr. Justice Ranjan Gogoi, in his convocation address congratulated everyone present especially mentioning his teacher Prof. Upendra Baxi, Dean, Faculty of Law for his success. He congratulated the passing out students and families stating that the country has great expectations from them. He also urged the new graduates to remember "that there are no shortcuts in life" and to not let their minds be swayed by the corporate. He said that "A lawyer's mind is open, hence urged them to keep their minds open."
He mapped the history, growth, and transformation of legal education especially of the 5 year B.A.LL.B. degree as an amalgamation of law and arts, stating that purpose of law schools is to bring out lawyers who are socially relevant, technically sound, and professionally competent. He urged for legal modern education to be socially and economically barrier free education and make initiatives to improve legal infrastructure. He stated that NLU Delhi can take the lead in making an inclusive and socially relevant holistic education on this 73rd independence year of the country.
He advised the young graduates by quoting Mahatma Gandhi, "Be the change you wish to see in the world" and to not treat the "degree as a paper but a call of duty, duty to act."
The Convocation also saw the release of six publications—four Journals, one Research Handbook, and one Book: The Journal of National Law University, Delhi, published by Sage; NLUD Journal of Legal Studies; Journal of Victimology and Victim Justice, published by Sage; Indian Journal of Criminology; Research Handbook; and Living on the Edge: A Study of Women Victimization & Legal Control by G. S. Bajpai, published by Mohan Law House.
All these publications were carried out under the patronage of Prof. Ranbir Singh, Vice-Chancellor, NLUD.
This 7th Convocation featured felicitation of the old students. As many as 13 achievers were acknowledged for their distinctive accomplishments like success in Civil Services and Judicial Examinations, and acquiring Fellowships to reputed International institutions.  
The video of the 7thAnnual Convocation of National Law University Delhi is available on the YouTube, and the link is as follows: https://www.youtube.com/user/NLUNewDelhi/videos