Events/News
HSF-NLUD International Negotiation Competition, Sept. 7-9, 2018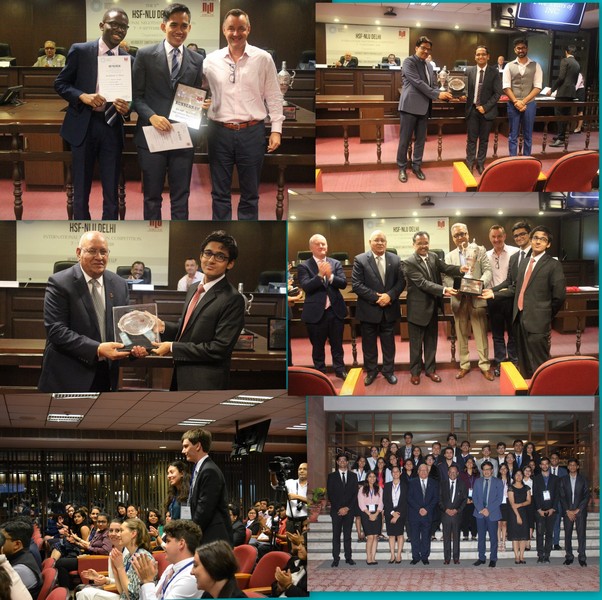 09/09/2018
Herbert Smith Freehills LLP and the National Law University, Delhi jointly organised the fifth edition of the International Negotiation Competition (INC) from 7 to 9 September 2018 at the NLU Delhi campus. This edition of the competition was the largest yet, witnessing participation from 38 teams from eight countries, 20 of which flew to India from different parts of the world.
The competition was conceptualised by Herbert Smith Freehills LLP and National Law University, Delhi in 2013 and has since received widespread acclaim for its well-drafted negotiation simulations, quality of judging and overall standards of participation. It aims at providing an opportunity to law students from top universities across the globe to practice and improve their negotiation skills in a life-like environment. Most uniquely, the competition provides a platform for students to compete in a truly diverse and an international environment.
Like every year, the negotiation simulations this year tested the participants' ability to negotiate intricate contemporary commercial legal issues. The issues this year covered diverse areas including engine supply agreements, investments in an air-taxi, agricultural cost-cutting proposals, and online media-streaming collaborations. The simulation for the finals required parties to negotiate the terms of the proposed expansion of an artificial intelligence software maker. The final round was adjudicated by Hon'ble Mr Justice Rajendra Menon (Chief Justice, High Court of Delhi and Chancellor, National Law University, Delhi), Mr Chris Parsons (Chairman, India Practice, Herbert Smith Freehills), Mr Bhaskar Chandran (President, Legal & Regulatory, GMR Group) and Mr Aditya Ghosh (Business Leader & Entrepreneur). It was Hon'ble Mr Justice Rajendra Menon's first visit to NLU Delhi in his capacity as Chancellor of the University, and it was our pleasure to welcome him.
We are excited to share that:
West Bengal University of Juridical Sciences (NUJS), Kolkata (India) comprising Shaishir Divatia and Shourya Dasgupta was awarded the Best Negotiation Team
University of Oxford (United Kingdom) comprising Oluwatoni Adejuyigbe and Herman Ahmad was the Runners-Up
Shourya Dasgupta from NUJS Kolkata (India) was awarded the prize for the Best Negotiator
Maharasthra National Law University, Mumbai (India) comprising Akshal Agarwal and Abhishar Vidyarthi was awarded the prize for the Best Negotiation Plan
Rajiv Gandhi National University of Law, Patiala comprising Siddharath Goyal and Jatin Bansal won the Spirit of the Competition award
We would like to thank all judges who took time out from their schedules to visit the NLU Delhi campus and provide valuable insights to our participants. We are also truly grateful to all teams from India and around the world who chose to participate in and contributed to the quality of the 5th HSF – NLU Delhi INC 2018!
Competition updates, including photographs and videos from this year's edition can be found on our Facebook page. For more information, please contact the competition coordinator at hsf.nc@nludelhi.ac.in