Events/News
ISC Kumarappa Reckless Award for excellence in the field of Criminology& Criminal Justice to Prof. G.S.Bajpai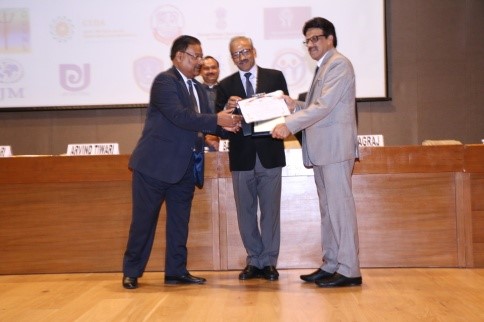 The National Law University fraternity is pleased to inform you that the Indian Society of criminology (ISC) affiliated with the International Society of Criminology, Paris in its Executive Council meeting has unanimously resolved to confer the ISC-Kumarappa Reckless award, the highest honour and award of ISC, in recognition of significant contribution to research, teaching and administration in the field of Criminal Justice Administration on Prof. G.S. Bajpai, Registrar of the University. This is the highest award of the country so far the discipline of criminology is concerned.
Prof. GS Bajpai was conferred the award and he delivered KR oration lecture in the inaugural session of 40th All India Criminology Conference on 19th January 2018 held at Gujrat National Law University, Gandhinagar. The theme of Prof. Bajpai's oration was: "Decoding Conversations and Restating Criminology in India". In his career of over 25 years of teaching and research his efforts are remarkable in the field of law, criminology and criminal justice. His constant contribution to empirical research and specially carrying out digital legal and criminological education have been noteworthy. Author of some magnificent research books and papers, he successfully conducted two e-pathshala mega projects one each in criminology and Law. Faculty, Students and Employees congratulated Prof. Bajpai for this prestigious award.
The Kumarappa–Reckless Lecture was instituted in the memory of Dr. J. Kumarappa, a former Director of Tata Institute of Social Sciences, Mumbai and Dr. Walter C. Reckless, a renowned criminologist and former UN Expert on Correctional Administration, who was invited by Pdt.Jawaharlal Nehru, the then Prime Minister of India to India, to help frame the correctional policies in the country. Over the last four decades, the KR Lecture has been a medium to recognize the contribution of some eminent personalities and experts from the field of criminology, criminal justice, human rights and corrections. Some earlier awardees include noted personalities which include Justice KishnaIyyer, Dr. Kiran Bedi and Prof. B.B. Pande.